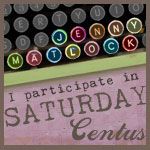 I don't know if you knew this...
But Jenny Matlock is evil. Don't let her sway you with her nice ways and amazing garden that I am highly jealous of! Oh no, it's all a sham. We won't even get into the chicken incident!
Because for this weeks Saturday Centus? ... The rule is, while we get 200 words this time, it has to be written in the style of a Harlequin Romance novel.
(PS, Mister Scoundrel and Miss Captive, you should likely not 'do it' in a bed of poppies. I don't want to think of the allergies or rash that could come from that.)
So yes, much like Scoundrel's Captive, we are captive to these evil, sinister, dastardly rules! So I sat down this morning with a big ol' mug of water and wrote a tale of epic, undying love, affection, and giant hooters. The prompt is in blue, and the rest, is history...
* * * *
The setting sun cast an amber glow over the crowded McDonalds. I filled my drink cup full of sweet, quenching Mr. Pibb as I adjusted my perfect blonde bouffant, waiting for my meal.
When I turned around I was startled to meet a green eyed gaze...
I gasped - my entire body tingled, as if I had been stung by a giant wasp. There he was, the wallet chain dangling from his pillow-like waist winking at me in the sunlight. The arrow on his "I'm With Stupid" t-shirt pointed up to a face chiseled of the finest Laffy Taffy; lips like elementary school erasers formed a perfect, heart-stopping smile.
I couldn't hold myself back any longer! I leapt across the room with the grace of a walrus at the ballet, my stretch pants straining against the two chili dogs and milkshake I'd consumed hours earlier.
I fell into his ham hock arms, the girth of his manly chest crushing my flimsy dollar store brassiere, along with its oversized contents. That moment was ours, and when the cashier called out ... Cheeseburger Happy Meal... I knew he was the one! And after dinner the back of his Chevy 4x4 was our destination, and it would be hotter than fry grease.
* * * *
That, my friends, is what redneck dreams are made of! ;)