Before I get to my photo memes, I have to let you know something amazing.
Last soccer-related babble for a while, honest.
Today? The Netherlands beat Brazil.
BRAZIL
. Yeah, only the South American soccer kingpin. It was such an amazing game to watch! Brazil got a goal early on and my hopes were crushed -- as they sort of had been when I learned we would face Brazil -- but as the game went on we managed to get two goals and finish them 2-1.
I was shrieking, jumping, hiding behind my hands, running around behind the couch in small circles, and flailing a lot! My throat was sore and I was so amazed and overjoyed that my team came through. We went out to lunch and I wore my
Holland
jersey and people kept asking us about the Netherlands game and it was fantastic that Americans are really noticing soccer. Okay I'm done with that now, really. :)
Time for photo memes! I have two today. The first one is Tazim's brand new project...
This week's theme due to the impending holidays, is "Iconic Things About Your City/Country". I was going to post some more Wilmington city photos but then remembered I had one better...

It's the Capitol building!

I got the chance to hang out in Washington DC this February while Matt attended a conference; it was snowy and ginormously cold but I managed to go to the Botanical Gardens, and when I realized how close I was to the Capitol, I had to get my nearly frostbitten bum over there for a photo. It really is HUGE close up, and there were all kinds of tours there and kids sledding on the lawn.

At first I was REAL excited, because I thought, hey, maybe Mister Obama's in there! No Sami, that's the White House. .... Oh. This is just where the government meets and stuff? ... Hmm. Still cool, though!

And looking at this photo makes me chilly.



Okay. I'm going to give you a little warning. This week's photo? ... Kinda creepy.
Well, I don't think it's creepy. Some people might, though.
While I was editing it, I had to ask Matt for a bit of Photoshop assistance.
(It's been a while since design school.)
And when he saw it, he said.
"... Whoa. That's kinda freaky."
See what I'm doing here?
Giving you space.
So all of the sudden, on your Google Reader, you don't suddenly come upon ...
... A creepy photo.
I had a lot of fun with this.
And I promise I'll stop taking creepy photos. For a while.
Yay! See? Not so creepy. And also, this is not a tribute to Twilight. Bad werewolf-thing.
Am I a zombie? Have I been chewing on my fingers all morning due to the match, causing mass destruction? Have I run headfirst into a brick wall? Have I had an unfortunate Spaghetti-O mishap??
This was taken in my bathtub because I really wanted the tile as my backdrop. I like the 'clean' feeling it gives the photo, almost like a crazy house. And I also learned something about ketchup that no one else would know, because no one else is wackadoodle enough to leave ketchup on their lips for minutes at a time.
It burns
. After I washed my face off, my lips tingled for about half an hour. I realized tomatoes were acidic after I worried my lips would fall off for the sake of art, and all turned out well.
I also realized I like ketchup much more as a condiment and less as a main meal. It's very thick and overpowering on its own, and I didn't much care for it smeared everywhere. Yuck. Blargh. Egh.
All right, before I go I have two more photos to show you. They are much friendlier! Remember all those flower seeds I planted a month or two ago?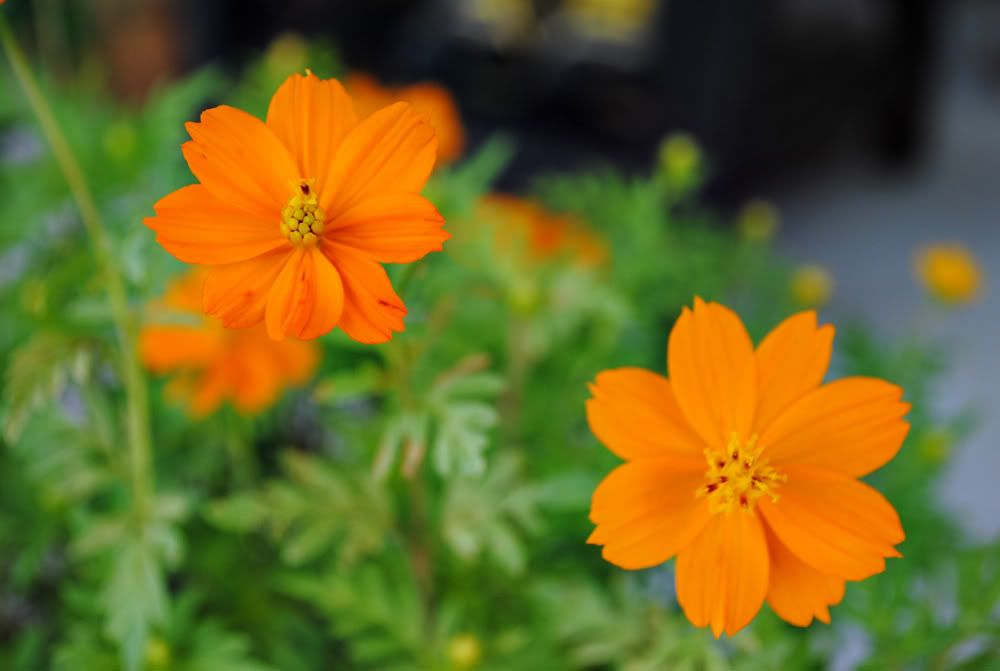 I have flowers!! My cosmos are in full bloom and I have about 10-12 yellow and orange flowers right now, with more buds on the way. The marigolds are just doing something bizarre and keep growing in snake-like waves, but they are leafy and green and pretty nonetheless. I'm delighted that flowers I planted actually turned into well, you know, flowers.

And this last one is a stuffed sheep that Matt bought me a few weekends ago. He is amazing and flat and soft and yes I'm almost 30 and still love stuffed animals. ;) Have a good Friday night y'all!!