The awesome Jenny Matlock has started a new writing meme that I'm really excited about! She'll post an 100-word starter prompt, to which you use your writing skillz (!) to finish the short story in 100 words or less. It's called the Saturday Centus and my entry is below; Jenny's prompt is first in
blue
, and my finish is in
purple
. Go check it out via the button below. :)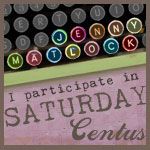 My untied shoelace changed my life. As I leaned down to re-tie it, I kicked away a few leaves. When I turned my head slightly to look where the leaves had been, I was astonished to see a rubber-banded wad of hundred dollar bills nestled in a little indention in the muddy ground.
I should never have picked up that money.
Hurried footfalls out of the park, trying to be discreet. A chill up my spine. Something wasn't right here, and regardless of the other activity about it suddenly seemed eerily quiet to me.
Had I stumbled upon some sort of sinister dealing?
A glance back over one shoulder barely caught the two men following me. My heart skipped a beat, and the blood in my veins momentarily turned to ice. I had little choice. The money was dropped, and I took off like a shot.
The chase was on.

* * *

My little ol' blog is having its 1-year anniversary in a week or so! NO WAY! (Yeah way!) So I'm going to be having a little giveaway that I'm excited about... what, you want hints as to what it's going to be? It's cute, little, full of local awesomeness, and made by ME! So yup, it'll be awesome! ;)