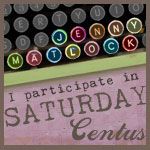 It's Saturday Centus time, hosted by the ever-wonderful Jenny Matlock, with prompts written by Mister Jenny. (What a team!) Done in 97 words this time, the supplied prompt is in italics.
"May I help you, miss? You look puzzled."

"Mmmm… thank you, I'm just looking for my father. We came in together a moment ago, but he seems to have wandered off."
A small smile curved my lips as the memories in my head faded. Dad always was such a scatterbrain. When I was little, I wondered how he didn't end up on the side of milk cartons.
Tips of my fingers pressed a little harder to the chilled headstone, and I sighed. The bowing of the tall grass in the wind seemed to echo my sentiments. Had it really been almost five years? I guess time flies whether you're having fun or not.
Thunder rumbled in the distance, and I knew it was time to go.