Uhh.. I mean.. I'm a winner!!
I won a contest today over at Fantabulously Frugal for a Carolina Pad stationary set, and I'm SO EXCITED! I love stationary!! Wahoo!! :D
If you've never checked out FF, I command you do so now -- there are regular giveaways, and TONS of tips for stuff that's on sale now from places all over the internet (and RL too, LOL).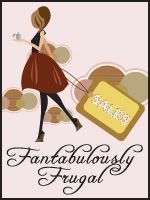 That's two contests I've won so far this year. Maybe I should play the lottery? Or just enter MORE contests? Hmmm...
And speaking of fantabulous, NY&Company is having a BOGO pants sale, so after dinner I'm absolutely going. :)