I got a blog award from the awesome
Moonjava's Muse
!! Yay!! :)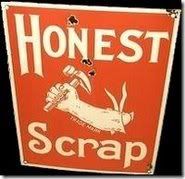 "The HonestScrap award comes with a caveat or two. Firstly, you have to tell your readers ten things about you they may not know, but that are true. Secondly, you have to tag 10 people with the award."
Okay, ten things about me:
1. I love Japanese horror films!
2. I am a second degree black belt in Taekwondo.
3. I am happier than anything to have paid off my car!
4. My favorite restaurant right now is probably any kind of fondue, like the Melting Pot (or locally, Little Dipper)
5. I barely passed math in college.
6. I worked in the veterinary industry for 6 years.
7. I lived in Maryland for 5 years, but only visited Washington, DC a handful of times.
8. My favorite sports team is the Red Sox!!
9. I love fresh, unsweetened iced tea on a hot southern morning. :)
10. My first concert was Radiohead.
Tag 10 people... yikes... ok!! (Do they all read this blog? We'll find out!!)
West Coast Newlywed
The Baffled Blogger
i'll go eat worms
Anything But Blonde
The Girl With the Pink Teacup
After 'I Do'
Perfectly Cursed Life
Life, Laughs, and Lemmings
The Hush Blog
Advice and Humor from Mr. Condescending
Those links took longer for me to produce than the 10 things about me. Yeesh! :)